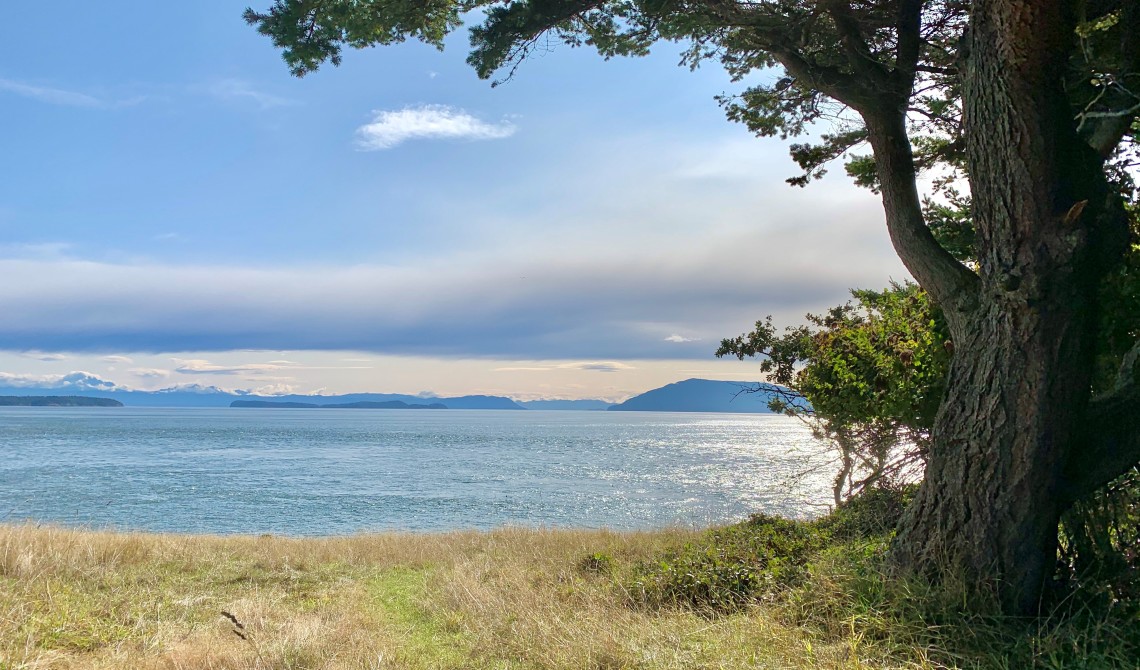 Enjoy your view through perfectly cleaned windows!
Chadam Cleaning - Window & Gutter Cleaning Victoria BC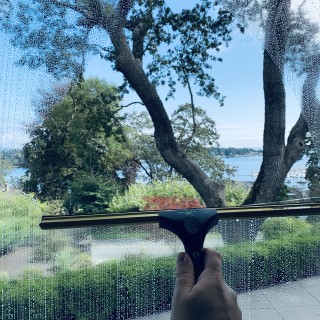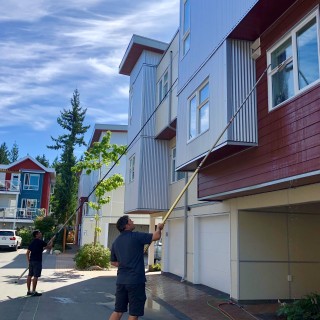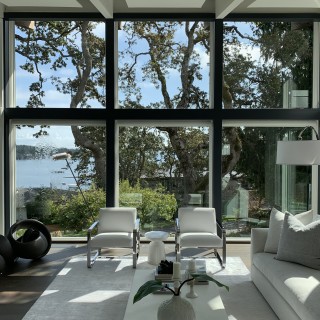 Window Cleaning
Making homes sparkle in Victoria, Sidney & North Saanich BC
We aim to brighten your day and your home by making sure your windows are cleaned to the highest possible standard.
In addition to residential clients, we also service stratas, condominiums, apartments and commercial buildings.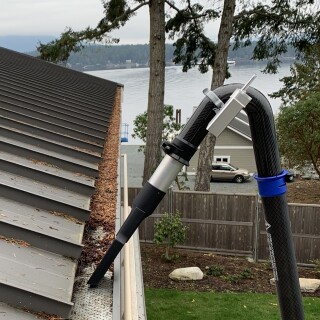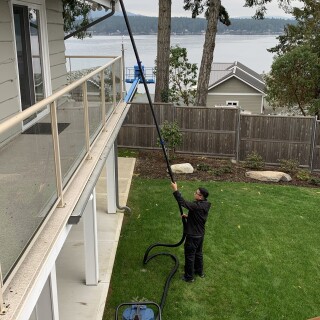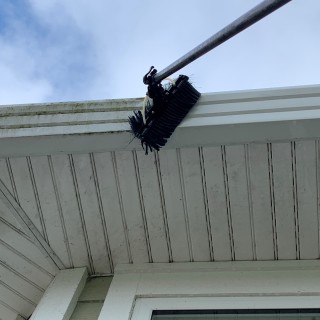 Gutter Cleaning
Introducing: GUTTER - VAC! The safest, cleanest, most efficient way to clean gutters in Victoria, Sidney & North Saanich BC
For anyone desiring gutter / eavestrough cleaning, we are ready and able to perform interior and exterior gutter cleaning at individual residential homes, apartments, condominiums and most commercial buildings. We are proud to do these services using environmentally friendly solutions and the latest technology with our Gutter-Vac system; cleaning your gutters out from the safety of the ground with our carbon fiber poles and camera inspection kit - your gutters have never been in safer hands!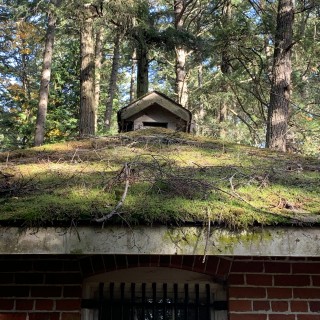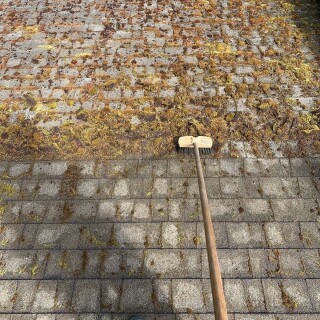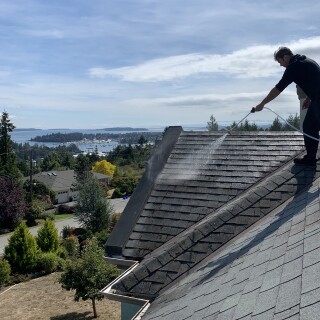 Roof Moss Removal
The "greenest" way to remove the green from your roof in Victoria, Sidney & North Saanich BC
Roof Moss is a reality here on Vancouver Island! We've worked hard over many years to develop an Eco-Pet-Friendly method of preserving your roof shingles, looking after the environment whilst providing powerful results.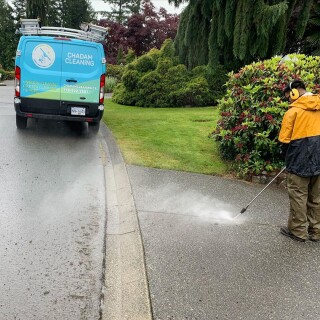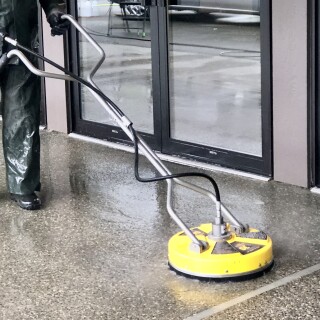 Pressure Washing
Keeping Victoria, Sidney & North Saanich BC clean, one driveway at a time!
Do you have dirt and moss on your driveway? We can fix that! With top of the line pressure washing equipment and years of experience, we can make sure that your home sparkles in your neighbourhood!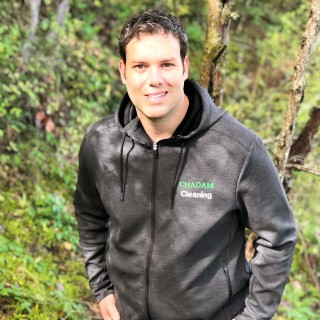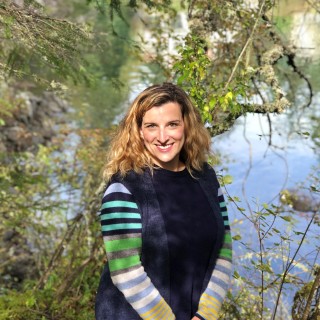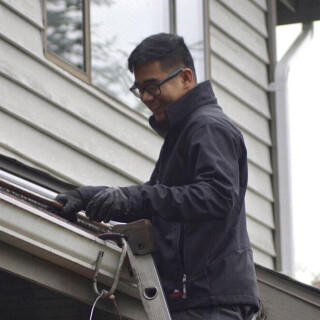 Why Choose Us?
Over 19 years professional cleaning experience

Environmentally friendly cleaning methods

Fully insured: WSBC and Public Liability

Family Owned and Operated
Window Cleaning Victoria BC
Improve the view out of your windows with our expert workmanship and dedication to quality results. Our highly skilled window cleaning technicians are passionate about producing crystal clear windows. We take our job seriously, though we always have a smile on our face.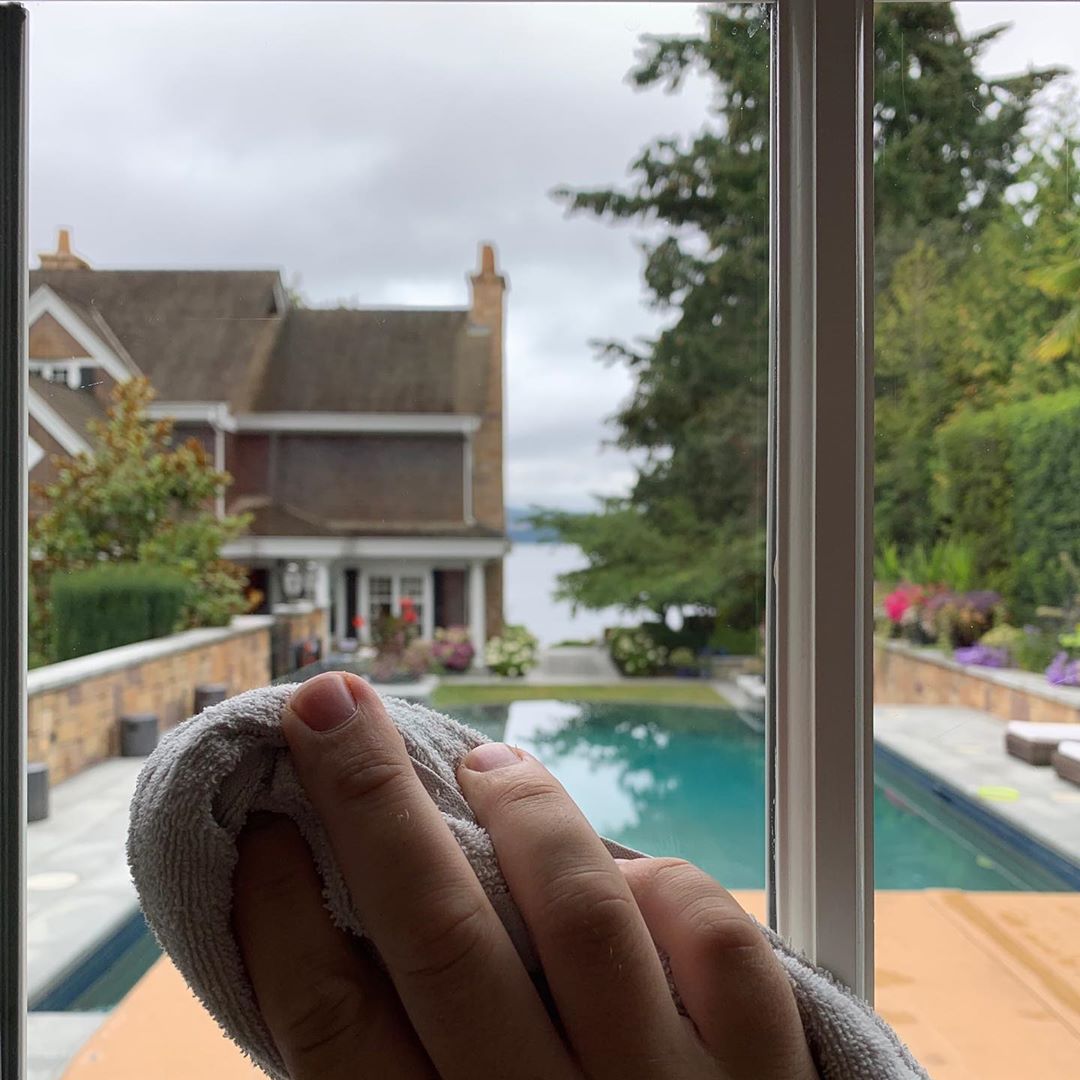 Take the hassle out of having your windows cleaned by engaging the services of the most talented window cleaners in Victoria BC.
Gutter Cleaning Victoria BC
Is it time for your gutters to be cleaned? Save yourself time, money and hassle by getting our professional gutter cleaners to handle your gutter cleaning for you.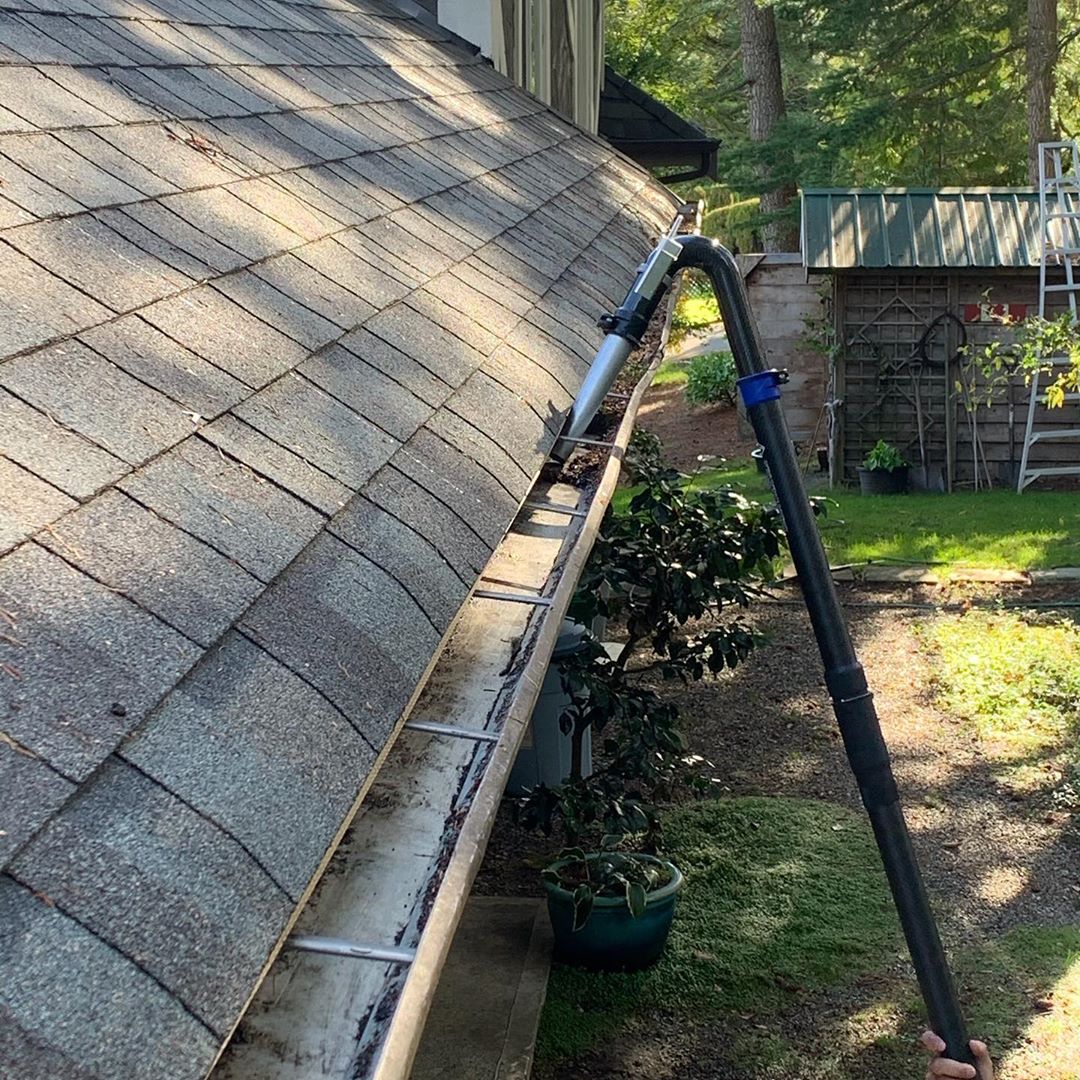 We look forward to helping you with first-rate cleaning services.
Pressure Washing Victoria BC
With our state of the art pressure washing equipment, we can restore your driveway and pathways back to near-new condition. Enjoy the satisfaction of seeing years of grime, dirt and muck being power washed off your hard surfaces.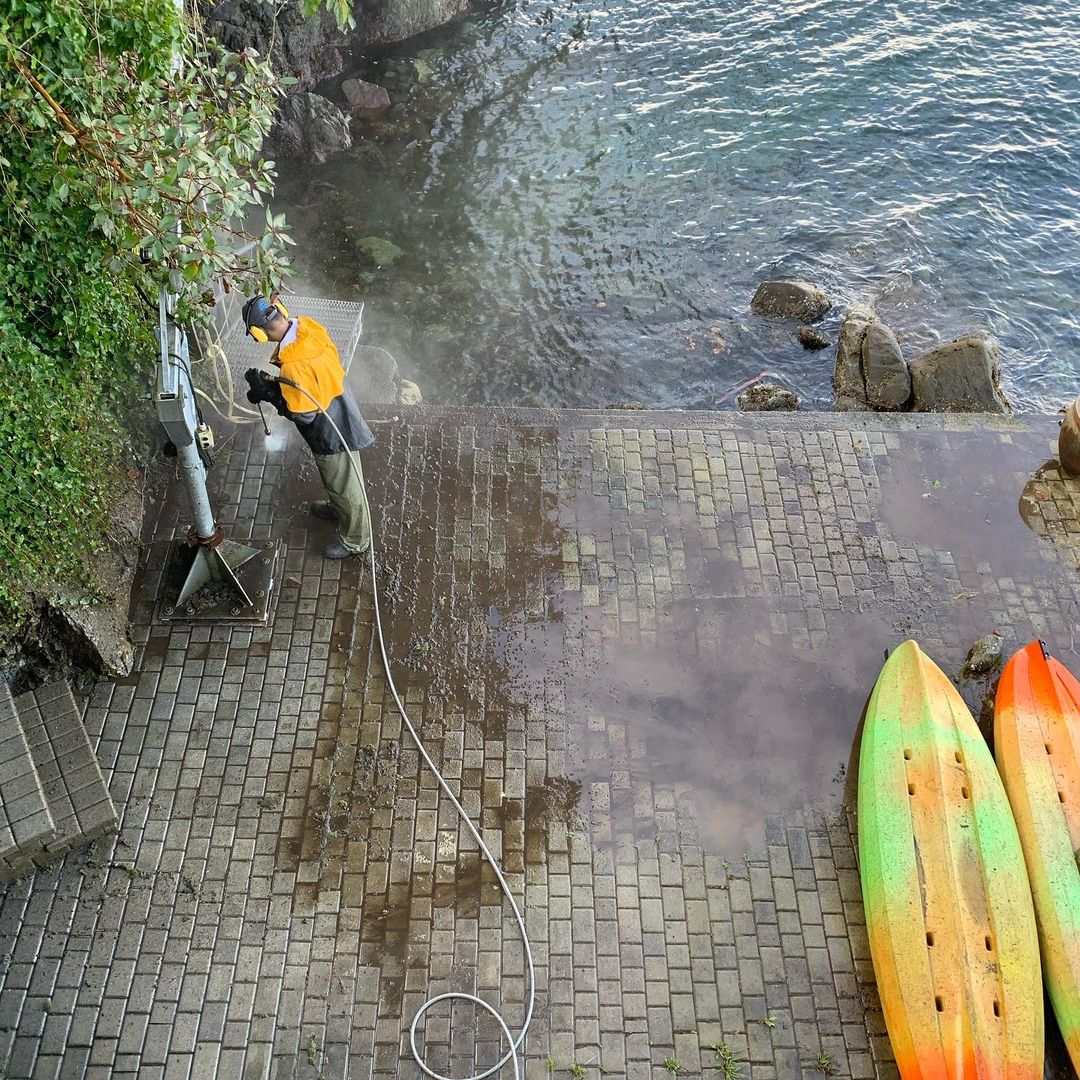 Our pressure washing services are available for commercial and residential properties in Sidney, North Saanich and Victoria BC. Give us a call today to request a power washing quote!
Roof Moss Removal
Get rid of that unsightly moss from your roof. Enjoy the satisfaction of engaging your local moss removal experts.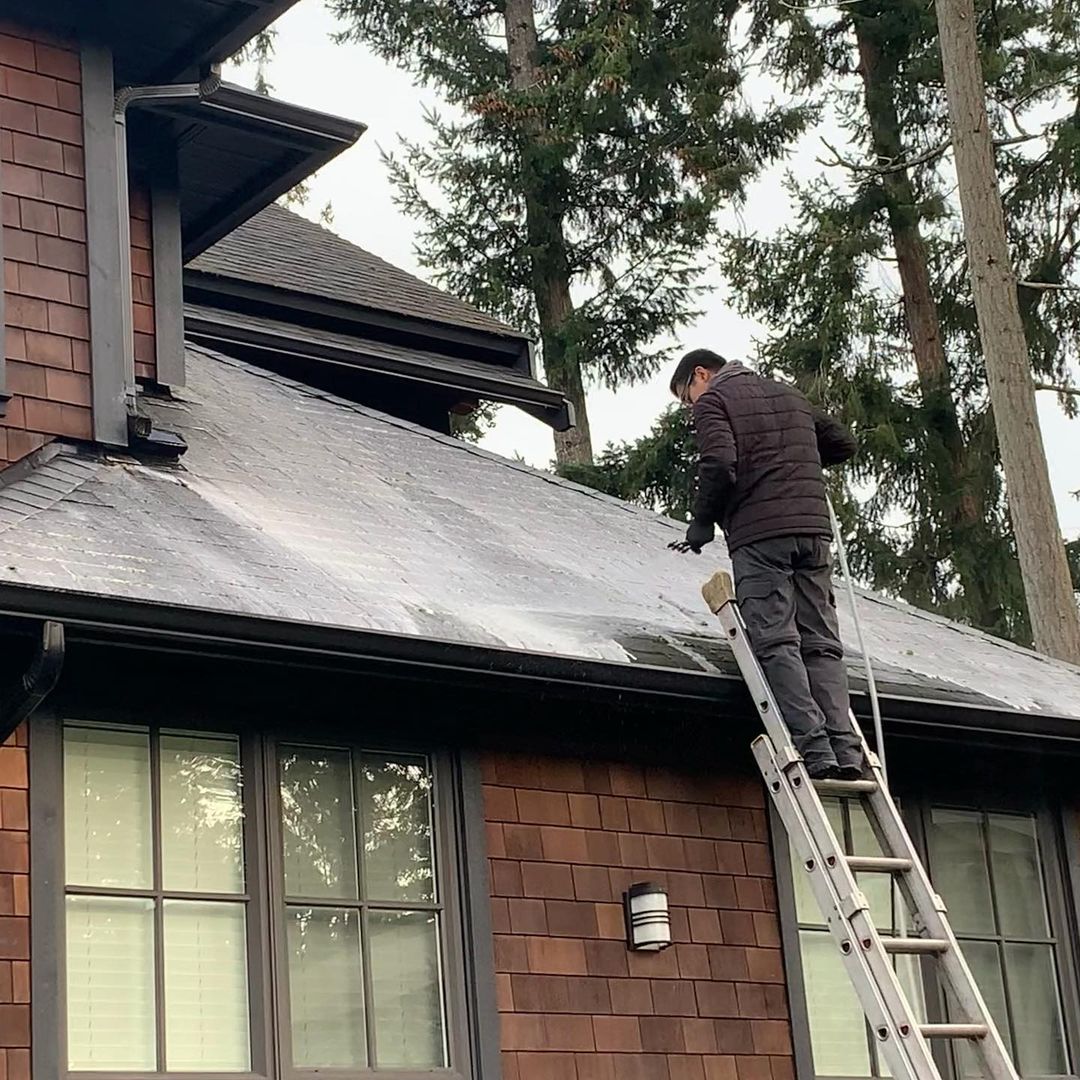 Streamlined services that will have your roof looking great in no time. Excellent value for money cleaning services.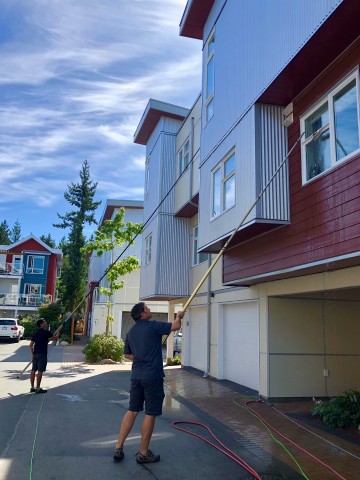 ---
We are confident that we provide the highest standard of window cleaning in the region. Our window cleaning technicians use advanced techniques to ensure that the view out of your windows has never looked better.
Why Will You Love Our Services?
Affordable rates

Free quotes

Wide range of services

Over 19 years of experience in the industry

Environmentally friendly cleaning methods

Fully insured: WSBC & Public Liability

Family owned and operated company

Friendly service
Commercial Window Cleaning
What is the first impression that your windows are giving? Are they covered in handprints, grime or dust?
Our professional commercial window cleaning services provide you with excellent value for money.
Shopfronts, cafes, restaurants and office blocks, we clean them all. Our window cleaners will arrive on time to your property in full uniform. You can rest assured knowing that we are fully trained and insured. Our streamlined services ensure we will not inconvenience your normal business activities.
Would you like a regular window cleaning service for your office or commercial property?
---
Residential Window Cleaning
It is amazing the difference that window cleaning can make on the feel and atmosphere of your home. When your windows are freshly cleaned your entire home will feel brighter, cleaner and more inviting.
We are happy to provide you with economical window cleaning services that will be sure to leave you with a smile on your face. Our window cleaners can clean your windows no matter how filthy or hard to access they are.
One of the reasons why we have so many regular customers is the unique window cleaning technique that we use to clean off the salty deposits that are so common here in British Columbia. You will be impressed when you see the results.
Put us to the test today. Give us a call and we will happily provide you with a quotation.
No streaks, no marks, no fuss. Our unique window washing techniques reduce oxidation and hard mineral scale allowing more natural light to enter into your home.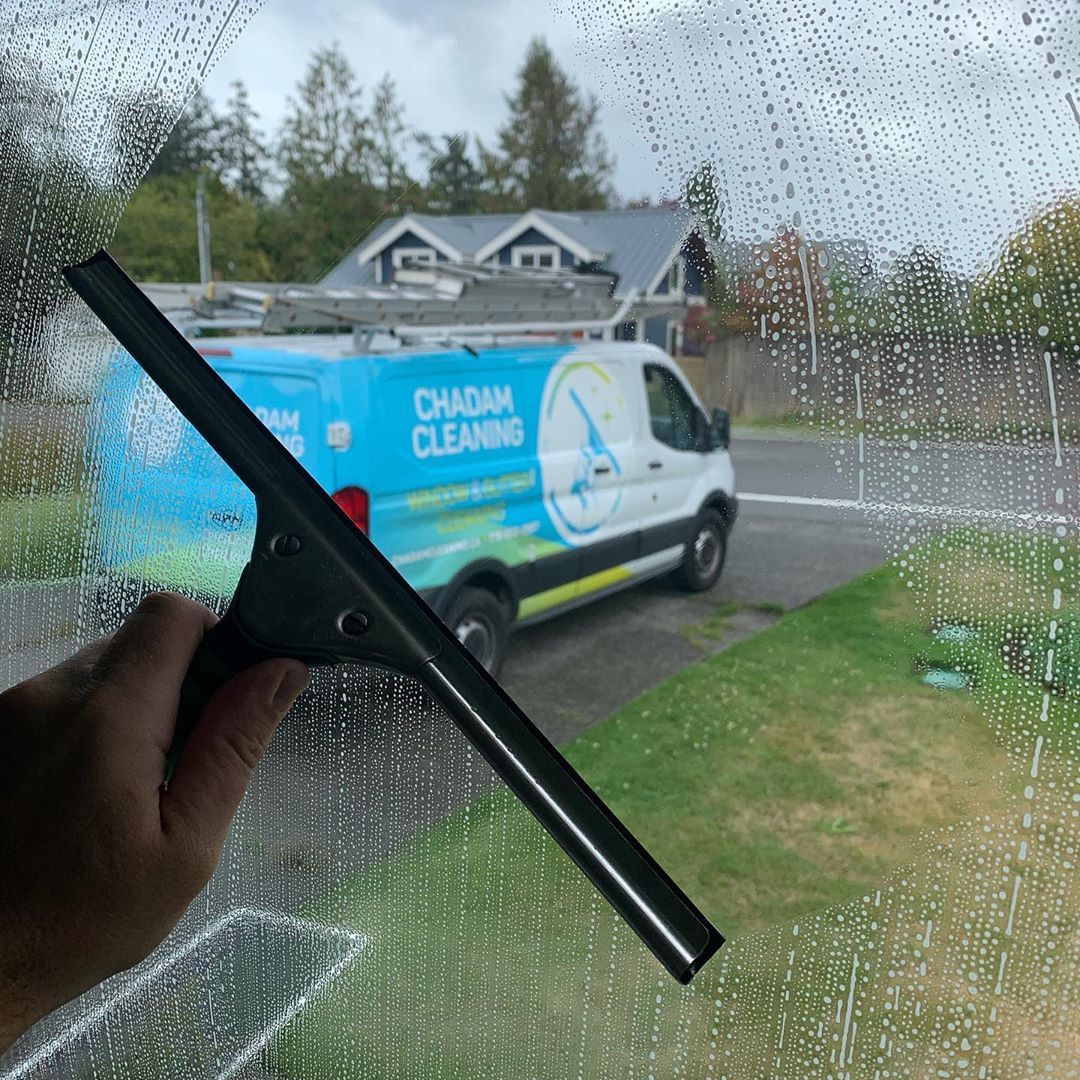 We are confident that you will agree that we are the best window cleaners in Victoria BC.
Superior service

Superior results

Competitive rates
We provide our custom window cleaning services throughout North Saanich, Sidney and Victoria BC.
Hassle-free and streak-free window cleaning.
---
Top-quality gutter maintenance performed by experienced technicians. We are the team you can rely on to make sure your gutters are not filled with leaves, debris or blockages. Our guttering technicians service hundreds of properties throughout British Columbia.
We Get The Job Done Right The First Time
Combine our gutter cleaning and moss removal services to save even more money and time.
If you have been taking your gutter maintenance for granted, we are ready to provide you with cost-effective gutter cleaning to ensure your gutters are ready for the next rainstorm. We provide comprehensive gutter care to ensure that every section of your guttering is properly cleaned and maintained.
There is no shortage of gutter cleaning companies in the region, but we are confident that you will appreciate our professional, personable and affordable services. We provide tailored gutter maintenance solutions for properties of every size and function.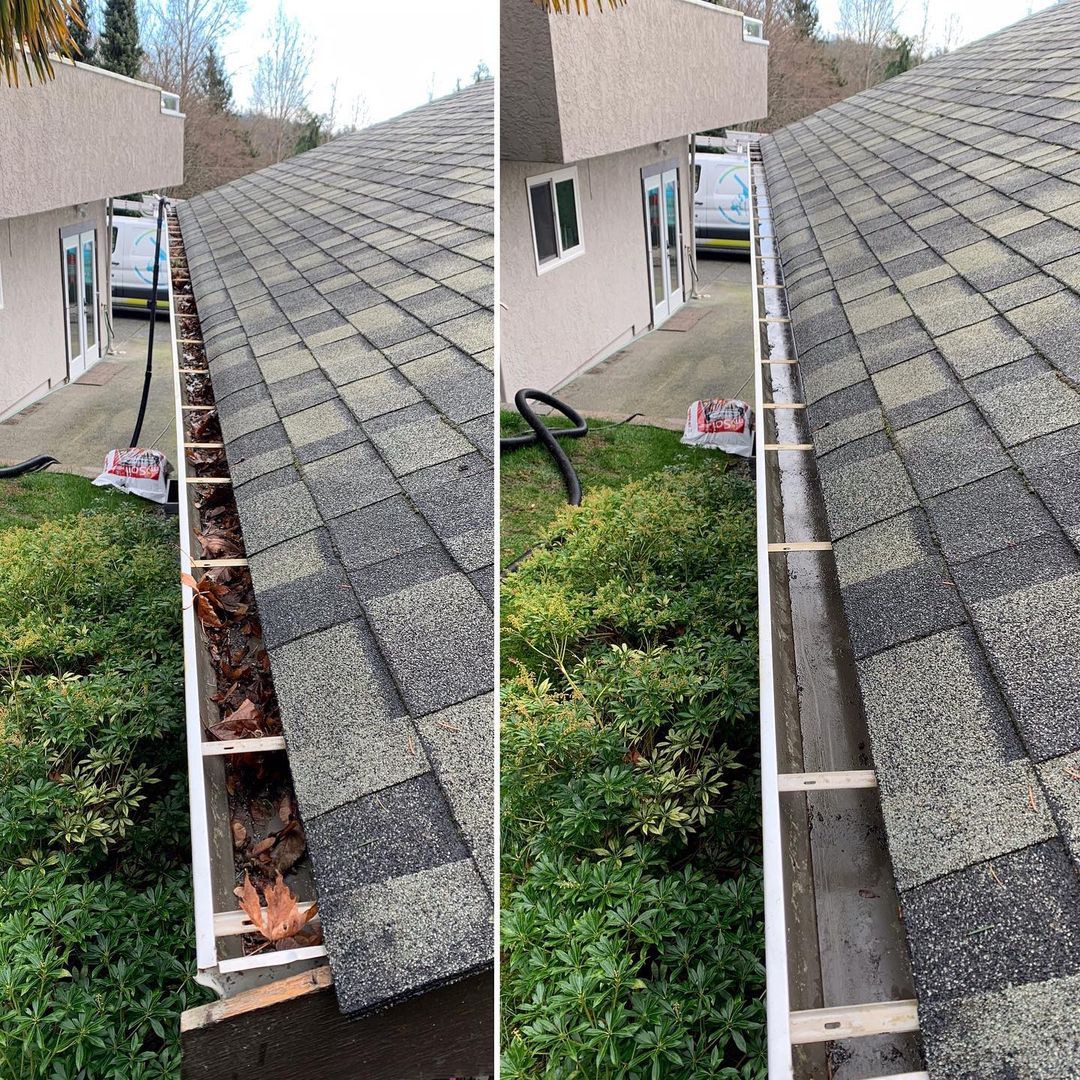 Don't put off your gutter cleaning any longer. Blocked gutters can lead to internal structural damage that is very expensive to repair. For full peace of mind, take advantage of our low-cost gutter cleaning service.
Simply CLICK HERE to request a free gutter cleaning quote today!
---
Gutter Vacuuming Victoria BC
If you have been searching for a gutter maintenance company that uses the Gutter-vac system, you have found us! Our state of the art Gutter-vac system uses carbon-fibre poles so that we can access every section of your guttering. As the system has a camera inspection, we can guarantee superior results.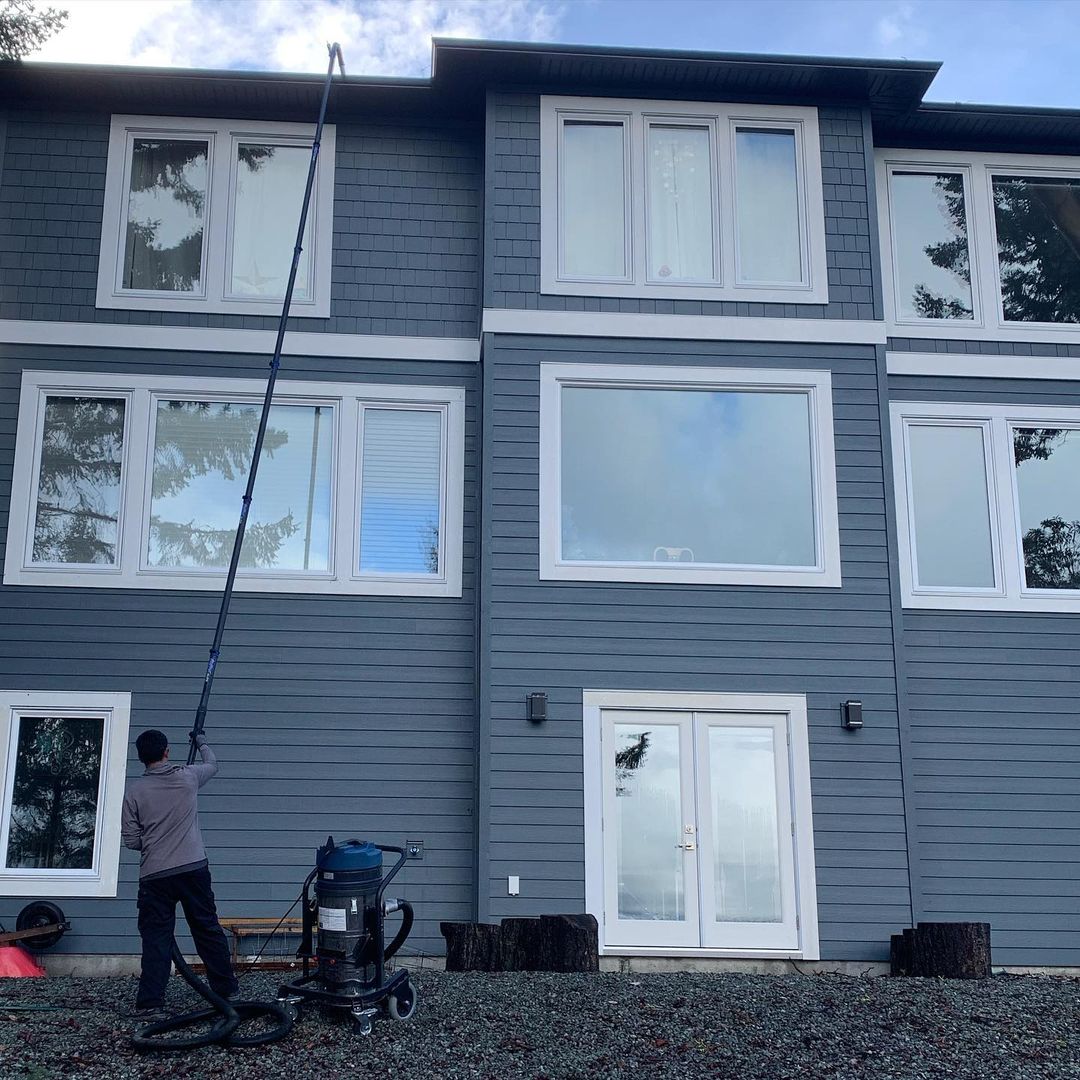 We really do offer the safest, cleanest and most efficient gutter maintenance service in all of Victoria.
Give us a call today to request a booking.
---
Safety First
When you engage our services you can rest assured knowing that we complete all tasks in a safe and responsible manner. Our window and gutter cleaners have been fully trained. At Chadam Cleaning, we have instituted safety policies that allow us to complete your home maintenance tasks in a safe, respectful and responsible manner.
We follow all WorkSafeBC requirements.
If you demand professional results, rely on your local professionals!
---
Affordable Rates
We happily provide high-quality workmanship with low rates.
Do you want to see how low?
Send us a message or email us at [email protected] today.
We look forward to providing you with an unobstructed view out of your windows.
---
What Services Do We Provide?
---
Where Do We Service?
We are based in North Saanich, BC. We service residential, mixed-use and commercial properties throughout:
Sidney

North Saanich

Victoria BC
As active members of the community, we take pride in offering a respectable service that assists our neighbourhood. We hope that we can build up an ongoing working relationship with you so that your windows and gutters are always in tip-top condition.
---
Your Local Window & Gutter Cleaning Company
Since 2014, we have been providing the local community with professional cleaning services. As a small family-owned company, we are able to quickly adapt our services to meet your needs. You are going to love the simplicity of our company as it allows us to provide you with personalised services, high-quality results and unbeatable prices.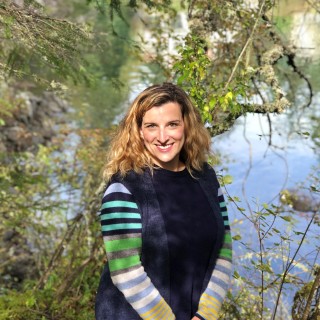 Would you like to explore more about the unique techniques we use to ensure we provide long-lasting results?
Check out our articles on our moss removal system to see how our eco-friendly methods can provide you with great value for money services.
We look after our loyal customers all-year-round.
If you want crystal clear windows, leaf-free gutters and a moss-free roof, contact us today to fast-track your service.
We know the local region. Our cleaning techniques work. We have perfected the art and science of window cleaning and gutter cleaning in Sidney, North Saanich and Victoria BC.