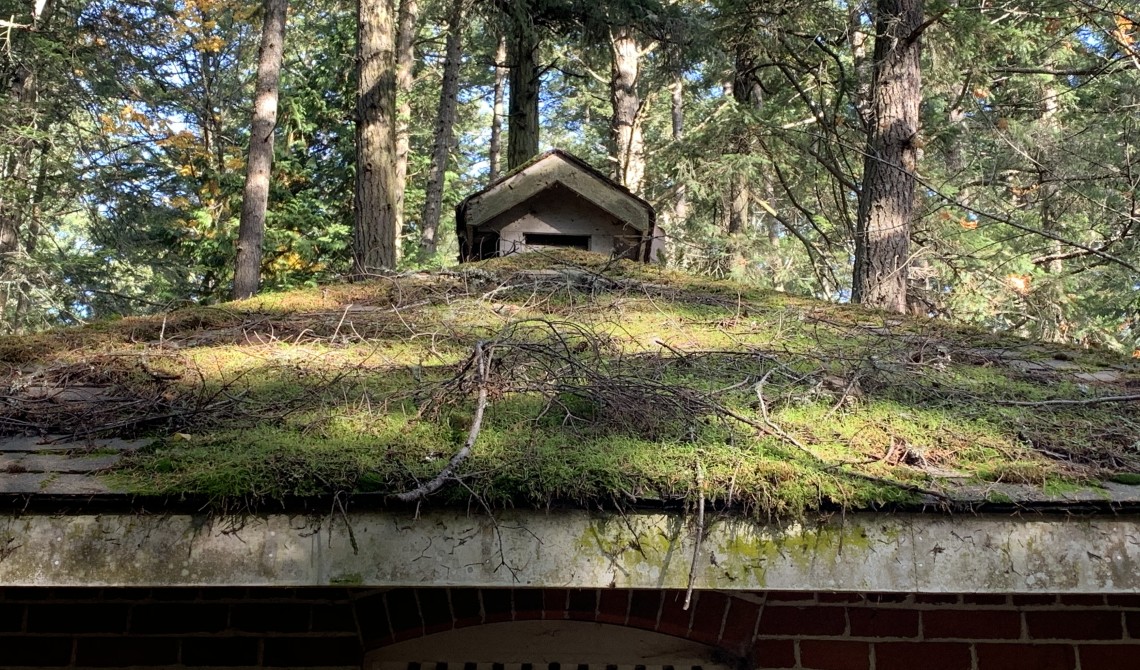 Your Local Moss Removal Experts
Moss Removal Victoria BC
Would you like a free quote for roof moss removal? You can CLICK HERE or send us an email at [email protected] today!
We provide a unique moss removal treatment for your roof that will both improve the look of your home and help extend the lifespan of your roof.
By taking the time to properly prepare the surfaces before we begin, we offer long-lasting results. All loose debris is removed and we make sure it is tidied up before we leave.
Great value

Great results

Great service
Our team has extensively tested a wide range of moss cleaning systems, solutions and technologies. Our moss cleaning technicians are confident that we have the perfect eco-friendly moss cleaning system for properties in the Victoria region.
How to best look after your roof for the long term is one of our priorities. We don't believe in "scraping" the moss off the roof as this can actually do more damage to the tiles than the moss ever would!
Instead, we brush off all the loose and big pieces off moss, before using our environmentally friendly solution which kills the stubborn moss roots that are left. Eventually the small bits that remain will dissipate and fall away, leaving your roof with the best chance of lasting many years.
Don't let moss, lichen or mildew ruin your visitor's first impression.
Our unique technologies can help your roof stay moss free for years.
Would you like a fast and free quotation? Give us a call today. We look forward to providing you with first-rate roof cleaning and moss removal for your Victoria BC property.

How would you like us to dispose of your roof moss? If you have somewhere on site that you compost your garden waste we can deposit it there. Alternatively we would be happy to bag it for you, so that you may easily dispose of it. Let us know your preference.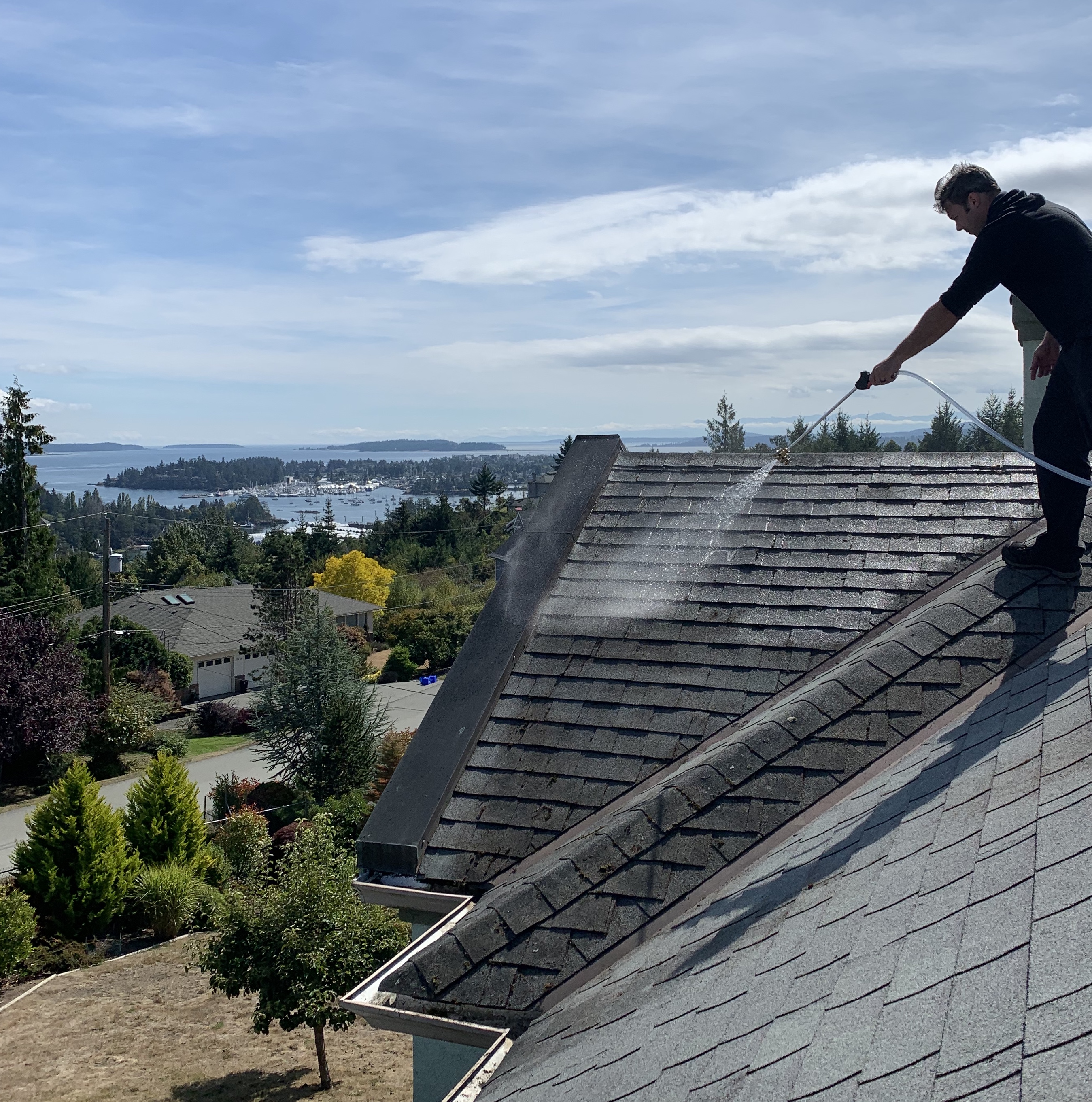 The primary goal when treating roof tiles that are affected with moss is preserving the shingle granules. An overly enthusiastic cleaning process can cause irreversible damage to your roof.
We never use aggressive scrubbing or high pressure to remove moss!
This will do far more damage than the moss, and in minutes will take years off the life of your roof.
We are passionate about providing you with first-class roof treatments.
We take the time to remove any loose debris, moss and environmental deposits with a medium bristled broom. Our technicians use a leaf blower to ensure that all fine particles are removed from your roof and guttering system.
For any remaining moss growth, we then use an eco-friendly moss treatment that gradually works at the source of the problem without damaging the roof shingles.
What Moss Treatment Product Do We Use?
Our primary roof de-mossing product is sodium percarbonate (hydrogen peroxide in a powder form).
Being in a powder form makes it easy to store and handle. On site we add the water to create the peroxide solution. The solution is truly environmentally safe and friendly, it won't harm people, pets, plants or property. Sodium percarbonate breaks down to water, oxygen, and soda ash (ash from plants grown in sodium-rich soil).
In our experience, we have found that this unique sodium percarbonate treatment provides exceptional results.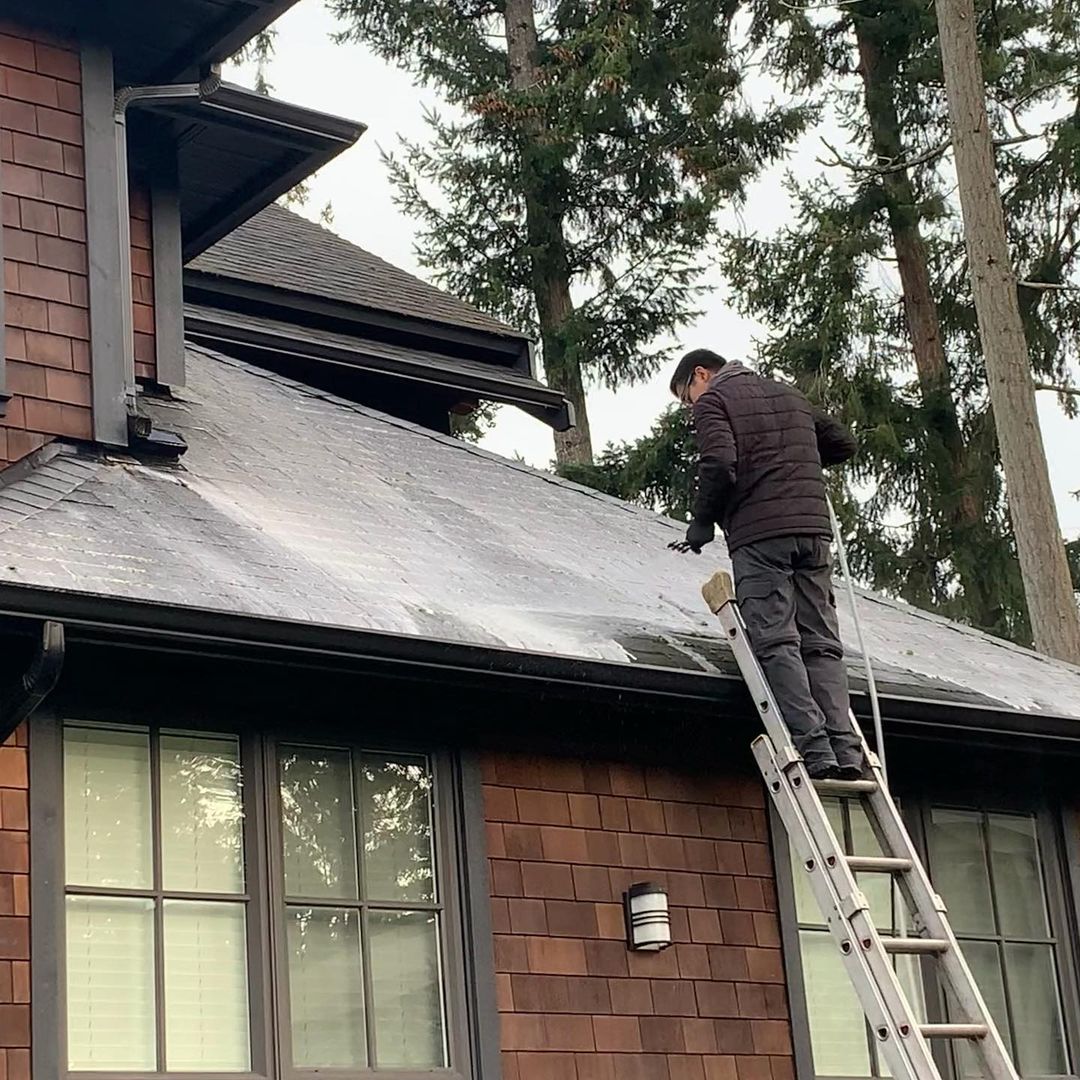 What Equipment Do We Use?
In order to provide our valued customers with the highest standard of roof de-mossing services in North Saanich, we have invested in a roof cleaning system that allows to apply the solution even on very steep-pitched, non-walkable roofs.
When treating steep pitched roofs, a ladder (equipped with standoffs to prevent damaging your gutter) is placed on the roof at the gutter line. Our system then will shoot the solution up approximately 35 - 40 feet, reaching the peak of a non-walkable roof pitch, ensuring all moss is treated.
Do you have any questions about our service?

Would you like a free quote?
We look forward to assisting you so please message us here or send us an email at [email protected]
Where Do We Service?
We are a family run and operated company based in your community. We service North Saanich, Sidney and Victoria BC. No matter the condition of your roof, we are ready to provide you with friendly and professional service. If you would like to take advantage of our expert knowledge and experience, please give us a call today.
Moss removal Victoria BC

Moss removal Sidney BC
Thanks to our mobile team, we can provide an economical moss cleaning service that provides you with the very best value for money.
At Chadam Cleaning, we endeavour to exceed even the highest expectations. The fact that we receive a large percentage of repeat customers gives us great pride.
If you want the job done right the first time, get in touch today.
What Other Services Do We Provide?
Please explore our other value-for-money services:
Expert moss removal and roof cleaning is just a call away. We have custom-created our services to ensure we provide a no-fuss, no-stress service.
Roof de-mossing can be a frustrating and even dangerous task if you don't have the right equipment or use the right techniques. Thankfully, at Chadam Cleaning we have you covered. Don't risk your safety trying to access your roof. We use class-leading roof safety equipment and strategies to ensure we can safely remove moss, lichen and mildew from your residential, strata or commercial property.
Top-notch exterior property cleaning. If you have been putting off having your roof cleaned for too long, now is the time!
At Chadam Cleaning we are committed to providing low-cost services that will leave your property looking great. Combine our moss removal service with gutter cleaning for even greater savings.
Put us to the test today. Get in touch to find out how much our specialised moss removal service will be for your property in North Saanich, Sidney or Victoria BC.
If you have moss growing on the north side of your roof, we are ready to help you with our innovative roof cleaning systems.
Asphalt Fibreglass Shingle Cleaning
If you have asphalt fibreglass shingles that are covered in hideous looking moss, we think you are going to be impressed with our revolutionary cleaning service. We get to the core of the problem so that we can provide you with long-lasting results.
Our moss removal and roof cleaning services can help extend the lifespan of your asphalt fibreglass shingles and roof.
Not only do we remove moss, mould and lichen from asphalt fibreglass shingles, but we also provide our unique multi-step cleaning service for Cedar Shake, concrete and clay tile roofs.
We look forward to providing you with what we consider the very best value for money roof cleaning and moss removal service in the Victoria region.